Indian Portrait Snuffbox
India | 19th century | Gold, enamel and diamonds | Jaipur goldsmiths (maker)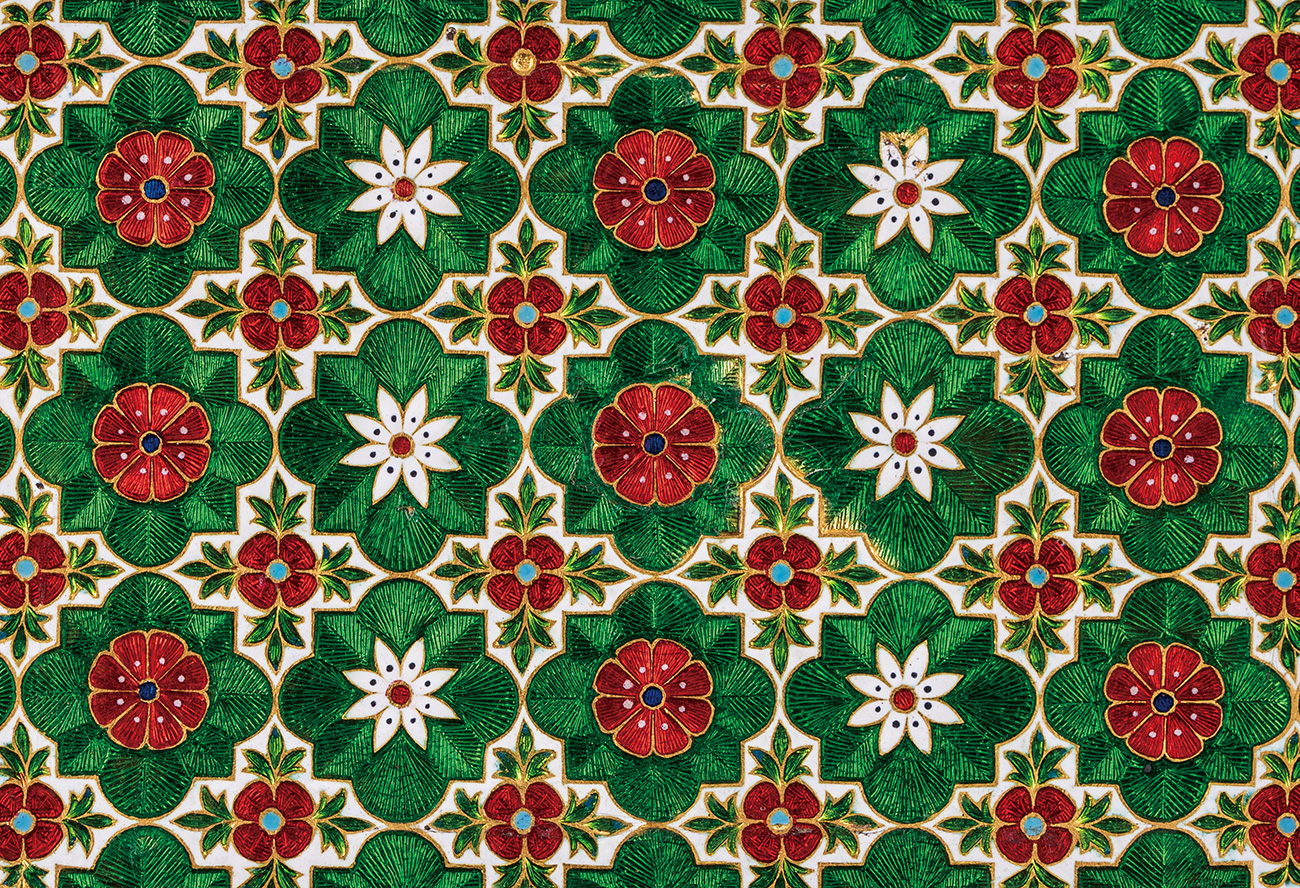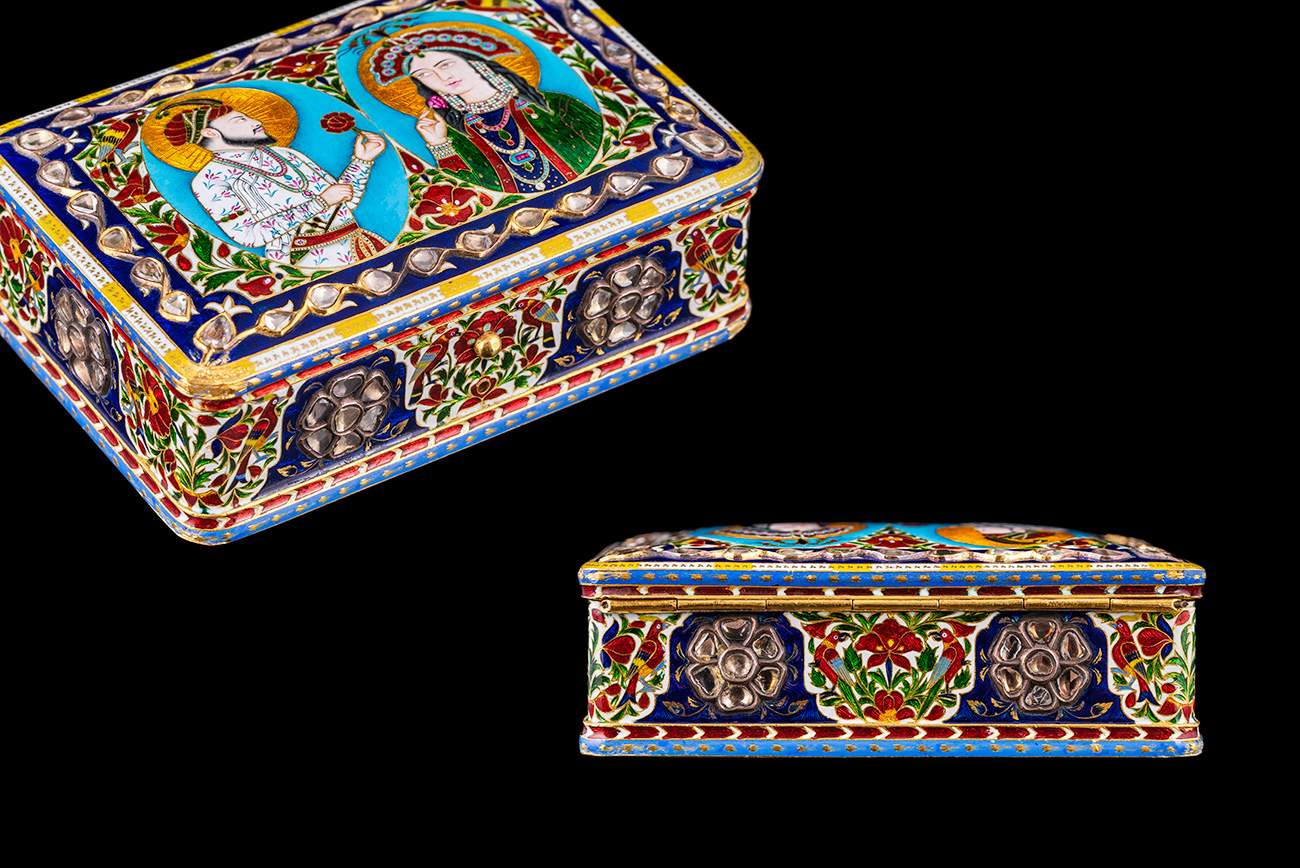 On the center of this rectangular golden box lid is a miniature enameled portrait of Shah Jahan and Mumtaz Mahal - the fifth Mughal emperor and empress - surrounded by birds and flowers in various colors. The edges of the snuffbox are set with old diamonds, interlinked to form a flowering branch decoration. The walls of the snuffbox are decorated with six diamond-formed flowers and enameled birds and plants.
Shah Jahan is depicted standing upright in profile on the left, which is a common iconography in Mughal court art. He wears a red and green turban with a black feather, the top of which is pinned with two teardrop-shaped emeralds, a white jama robe embroidered with a pink and blue floral pattern, and a necklace, bracelet, and armlet. Shah Jahan had the highest regard for jewelry among the Mughal monarchs, and not only did he wear and collect a great deal of jewelry, but he is also said to have designed them himself.
The painting shows Shah Jahan's right hand holding a katar dagger slung around his waist, and his left hand holding a red rose, which he appears to be offering to his empress on the right of the picture. The profile portrait of the monarch holding the flower is typical of Mughal court paintings, where for the male aristocrats of the time, the appreciation of flowers was a sign of character and refinement. The empress holds a flower with two fingers close to her cheek, which is also a common iconography in Mughal court paintings.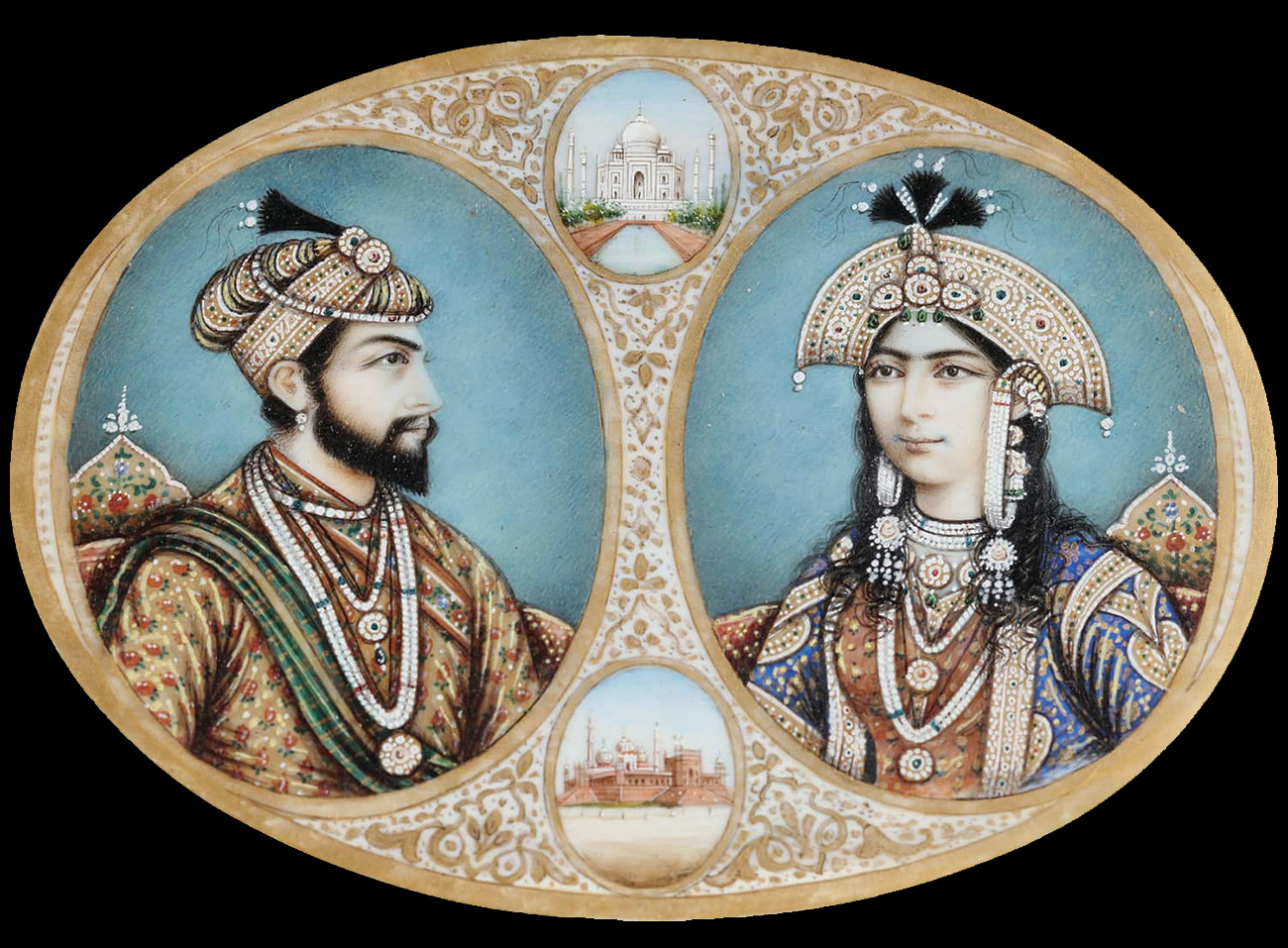 A double portrait miniature of Shah Jahan and Mumtaz Mahal, 19th century
Snuffboxes were used to store snuff in a portable container, a luxury item that flourished in Europe in the 18th and 19th centuries, not only as a sign of the owner's social status but also as a testament to personal beliefs and taste. The Indian portrait snuffbox was made after the death of Shah Jahan and his wife, and was probably ordered by a European aristocrat who appreciated exotic cultures. Perhaps he resonated with the love story of Shah Jahan and Mumtaz Mahal and wished to celebrate the beauty and immortality of love in the image of the royal couple, or to compare himself to Shah Jahan and create a personal image of a loving, long-suffering man.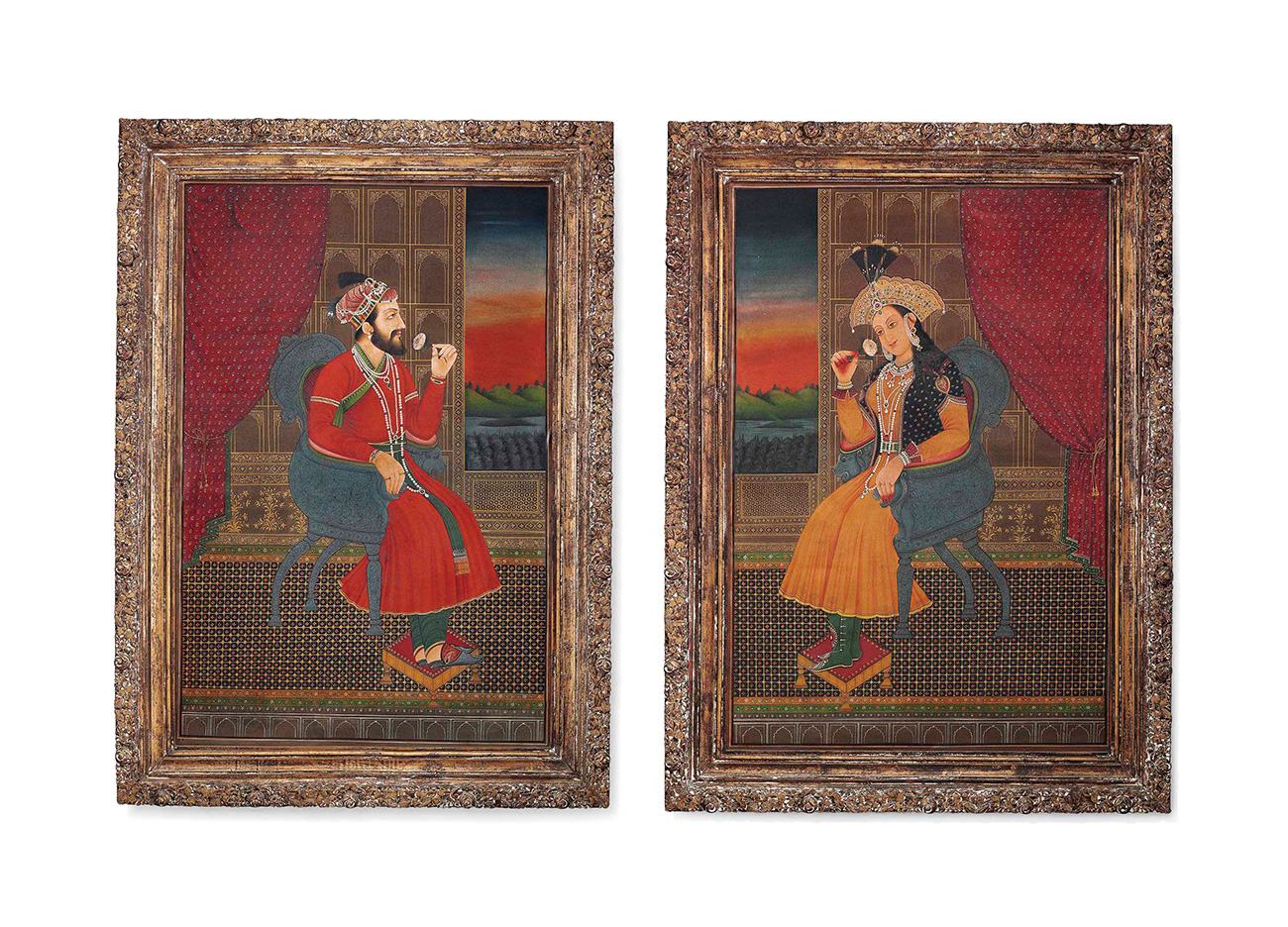 Portrait of Shah Jahan and Mumtaz Mahal, 20th century
The romantic tale of Shah Jahan and Mumtaz Mahal is widely celebrated; Mumtaz Mahal repeatedly got pregnant during the 19 years she lived in the palace. She gave birth to eight sons and six daughters, of which only four sons and three daughters survived. Mumtaz Mahal gave birth to her 14th daughter on June 17, 1631, but died of puerperal fever in Shah Jahan's southern expedition army camp at 38. In her memory, Shah Jahan ordered the construction of a white marble mausoleum, later known as the Taj Mahal, on the banks of the Yamuna River in the North Indian city of Agra.