Emperor William II Portrait Snuffbox
Germany | ca.1890 | Gold, diamonds, enamel, sapphires | J. Wagner & Sohn (maker)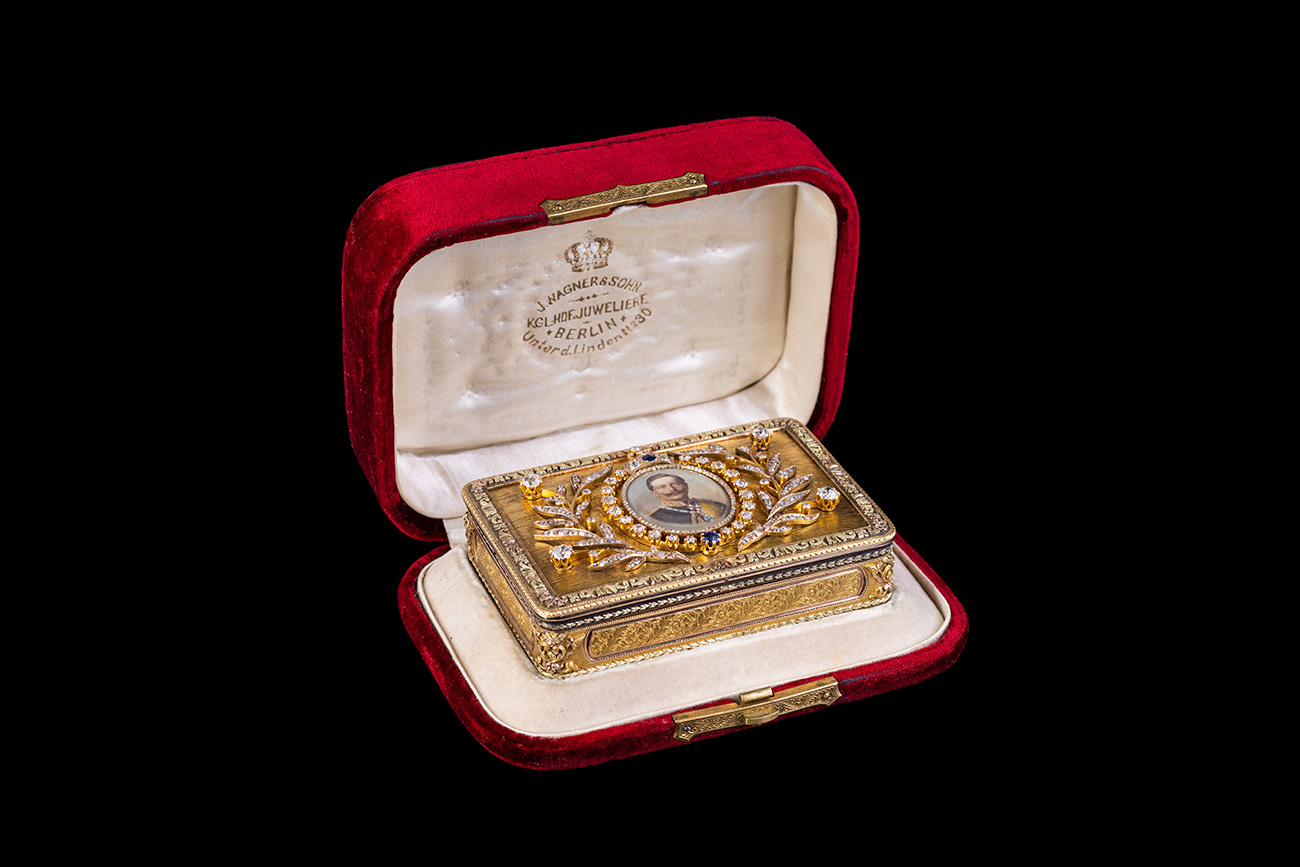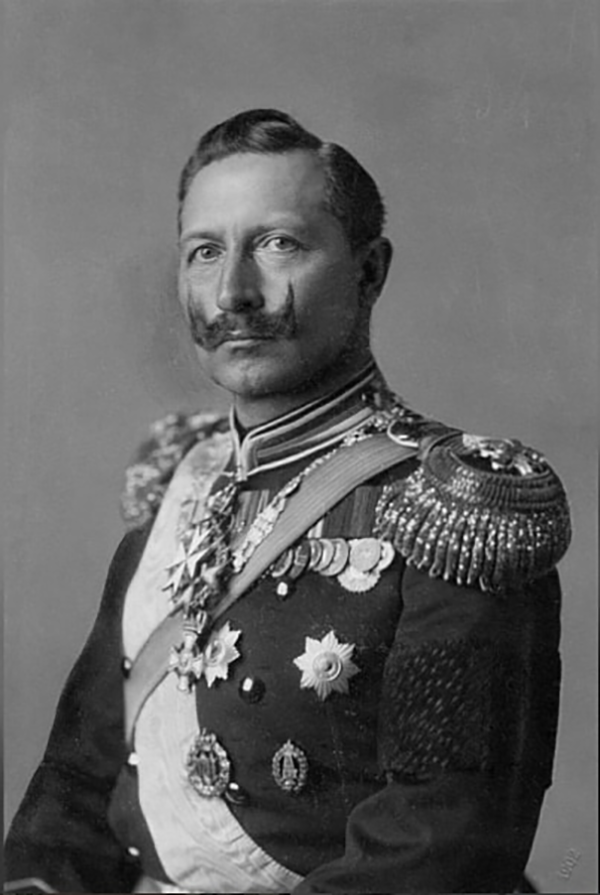 Wilhelm II, taken by T.H. Voigt, 1904
The lid of this rectangular snuffbox features an ivory portrait of the last German Emperor Wilhelm II (1871-1888) and the crown of the German Empire. The portrait is decorated with olive branches and set with rose-cut diamonds and sapphires. The box's border is decorated with gold scrolls and flowers, and the sides are also elaborately engraved with scrolling figures. The snuff box is housed in its original red velvet box with silk lining, and the lid is lined with gold lettering "J. Wagner & Sohn/Kgl.Hofjuweliere/Berlin/Unter den Linden No 30".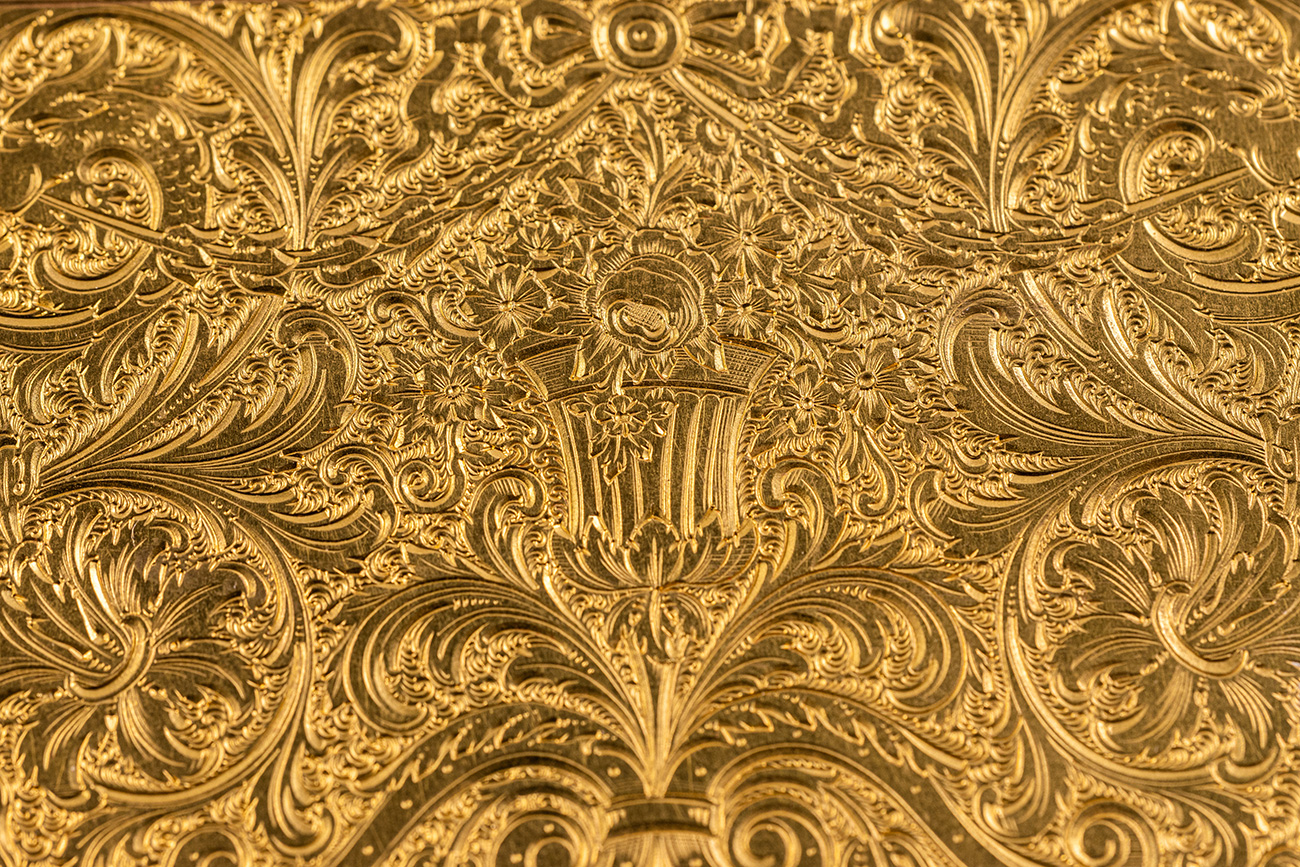 The firm of Johann Wagner & Sohn was founded in Berlin by the engraver and jeweler Jean (Johann) Adam Wagner (1761-1840) who had been appointed court jeweler to the Prussian court before 1818. Jean Adam Wagner was trained as an engraver and jeweler and in 1789 married Jeanne Chrétienne Boehringer from Hanau. They had four sons, with two sons continuing their father's tradition: the second son, Johann Carl Eduard (1798-1873), trained as a jeweler with his father and submitted a gold box as his masterpiece at the end of his apprenticeship; the third son, Carl Ludwig Wagner (1799-1841), received a similar education, became a master goldsmith in 1823, and subsequently moved to Paris, where he promoted the revival of old medieval metal-working techniques.
Johann Carl Eduard, who had remained in Berlin, took over the firm after his father's death, styled 'Königliche Hofjuweliere Johann Wagner und Söhne', that supplied the court of King Frederick William III (1798-1840), as well as royalty and nobility throughout Europe. When Carl Eduard died in 1873, his son Emile August Albert Wagner (born 1826), took over and went into partnership with François Louis Jérémie Sy (1827-81) in the company 'Sy & Wagner'. In 1855, Albert Wagner was appointed court jeweler to the Prussian court, which once again led to success for this old family firm of jewelers.